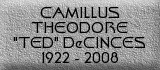 Camillus Theodore "Ted" DeCinces was the eldest born to Dorothy and Dominick DeCinces at Queen of Angels Hospital in Los Angeles in 1922. Ted had four siblings: Mary, Joe, Bill and Jim. His mother was Irish and his father was Italian. His parents were both hard workers. His mother worked at a hospital and later as a homemaker. His father worked most of his life as a still photographer on sets at Universal Studios. With a close-knit family, Ted had a good childhood living first in Hollywood. When the family moved to Venice, Ted enjoyed being close to the ocean. He became a Sea Scout at a young age, learning to play Taps on the bugle. When he was 14-years-old, he decided to sail to Catalina Island by himself. He made it half way when he got stuck and had to be towed inland. He was always looking for the next adventure. An athletic young man, he played football and was a four-year Letterman in diving. When the family moved to the Valley, Ted's education moved from Venice High School to North Hollywood High School. His talents impressed his classmates. He was also a good dancer, especially when dancing at the Palladium with his talented sister, Mary, who was only 18 months younger. It was in high school when he met the future love of his life, Phyllis. Ted graduated from North Hollywood High School in 1942. He went on to Los Angeles City College, majoring in engineering, but soon after, he voluntarily signed up to join the Navy Air Corp during World War II. Phyllis and Ted were already dating when they were separated during the war. She remembers that she would have followed him anywhere because she was mad about him. And, so she waited patiently for his return.

Ted joined an experimental class in the Navy Air Corp, where he learned how to fly and earned a fabulous education. Through the Navy, he attended the Peru State Teachers College in Nebraska, Flight Prep School in Minnesota, Pre-flight Training in Iowa City, Iowa, Prim 4 Flight in Iowa, and Diesel Engine Study in Coronado, California. He quickly fell in love with flying and throughout his life he was a very patriotic man believing in the value of the American flag. Ted finished his service on February 16, 1946, returning home. Phyllis and Ted were married in a lovely ceremony in Reno, Nevada. The couple bought a piece of property on a corner in Sherman Oaks and starting building their own home. Phyllis remembers doing much of the work themselves, digging with buckets. When they had enough money, they built the foundation for the garage. When they finished the 20' x 20' garage, they moved into it. Again, when they earned enough money, they worked on the main house. Together, they were a good team. Ted's love of flying continued as he and his brother, Billy, bought an old World War II Trainer with an open cockpit. It was incredible to see them flying. Family always came first as Phyllis and Ted were thrilled to expand their family with the births of their children born two years apart: Douglas and Cheryl. Life had delivered his greatest joys.

Professionally, Ted worked at Universal Studios as a carpenter, building scenery for sets. In 1950, he earned his construction license as a general contractor. He had licenses in three states: California, Arizona, and Nevada. As a pioneer in construction in the San Fernando Valley, he built commercial buildings, churches, banks, the First A.M.E. Church, along with many other famous buildings and landmarks. He also built Frank Sinatra's house. Ted worked with Sinatra's architect, Paul Williams, who was the first African American architect to find success. Whenever Ted and Phyllis went to Las Vegas, Sinatra's secretary gave them a suite at the Sands Hotel. Sinatra also gave Ted his own four tickets to the 1958 All-Star game at the Coliseum. They had seat 1, 2, 3, and 4, right next to the dugout. A memorable moment, Doug got all the signatures from the players. In 1953, Phyllis and Ted built their beautiful home in the Valley. They were the first ones on the block to have a dishwasher and Ted was so proud of everything they were accomplishing together.

Ted was a very hard worker and a very fun person. He worked hard and played hard, there was no in between. He passed on his work ethic to his children, Doug and Cheryl, but also believed when you played, you should have a great time. When Cheryl was four-years-old, she remembers her father taking her into the ocean for the first time and teaching her how to read waves. It was really a metaphor for life as it reminded him of his own childhood in Venice. He loved the ocean. He also loved football, but when Doug was eight-years-old, his Little League Coach was transferred out of state for work. Doug asked his father to be the new coach. He agreed, as he became dedicated to the young players. He was always supportive of both of his children and their interests. For Cheryl, Ted volunteered to help when her Girl Scout Troop went camping at Carpinteria and skiing at Wrightwood. He loved Cheryl's work as an artist and always supported her interests. Ted continued coaching baseball until Doug went to college. In fact, Ted coached eight or nine youth players who went onto play baseball professionally. Two of those professional baseball players were Doug DeCinces, his son, and Dwight Evans of the Boston Red Sox. Ted was so very proud when Doug played professionally with the Baltimore Orioles and the Los Angeles Angels of Anaheim. He was happy when Doug was traded to the Angels, because he could attend all of the season games and watch his son play baseball professionally. Buying their own foursome of season tickets, Phyllis and Ted attended nearly every night of the home games. They flew down to Fullerton Airport, drove to the game, watched the game, then drove back to Fullerton Airport before it closed and flew home.

Ted's construction business continued to grow. Starting with only a cement mixer, the company grew reaching a high of 500 employees. In recognition of his success, Ted received many honors. One of the most prestigious awards he received was California Builder of the Year, which was presented by the California Building Industry Association. For Doug, being raised in the construction business and learning so much from his father, it seemed natural to join him in the business. He worked with him off-season from baseball and they shared a strong work ethic. Together, father and son partnered in the construction business. Throughout all of his professional success, family was first. Ted was extremely involved with his grandchildren, especially Cheryl's sons. He had a positive influence on their lives. Ted loved the holidays as they focused on family. Phyllis and Ted kept their family together holding Easter celebrations at their home every year. That included many Easter egg hunts in the yard. The family also gathered together for Thanksgiving and Christmas holidays.

His main hobby was always flying, as it was his true love. Ted owned an A-36 Bonanza, which was a six-seater. He loved flying everywhere. He flew to Oakland and Seattle to see Doug's baseball games when the Orioles played on the West Coast. He flew to Orange County when his son played for the Angels. Phyllis and Ted flew places for weekend trips including Oregon, Arizona, Northern California, Utah, Las Vegas, and Reno. Ted liked flying to places you could reach in one day. He also liked going on trips with family and Phyllis. On one memorable Mississippi River Cruise in New Orleans, after a few mint juleps, Ted enjoyed singing the song, "Old Man River." Cheryl remembers he also loved the song, "Ghost Riders in the Sky," and would sing along when he heard it play.

Over the course of his life, Ted lived his life to the fullest. He worked as hard as he could so he could enjoy life. His favorite music included 40's music, Glenn Miller, Benny Goodman, and Frank Sinatra. One of his favorite songs was "Indian Love Call" by Jeanette MacDonald and Nelson Eddy. One of his favorite sayings was a carryover from his father, "Chicargo." He loved adventure movies and reading stories related to World War II. He didn't care much for people who didn't respect the flag, as an American flag hangs proudly in his front yard. His favorite food was Italian and he loved corned beef and cabbage. His favorite beverages were Martinis and later, Irish Whiskey. His favorite color was Irish green. In fact, green was the color on his plane with an orange stripe and he liked wearing the color green. He had a love of animals. He especially loved skiing with the grandkids on annual ski trips, as he was an advanced skier. They'd go for a week before Easter and be back in time for Easter day. Ted liked landing on the short runway, with their second home in Telluride. There are many stories about skiing and flying. He belonged to three different flying groups: Beach Arrow Club, Aviation Country Club, and the Quiet Birdmen. Ted enjoyed the adventure of life, especially with Don Couch. In a catamaran race from Oxnard to Malibu, Ted and Don decided to sail straight out into the ocean and then cut back in toward land with the intent to take a different course and win. Instead, they lost their wind. The race ended at 6 pm, but Ted and Don had not arrived. A full coast guard and helicopter search ensued. It was a huge search as everyone gathered together with worry and concern. Once the two men arrived safely on shore after midnight, Ted and Don got an earful from Phyllis and Carol. On another occasion, when the two men went skiing on a tough course, they never quit even when they were looking over the edge of a cliff. Ted was memorable. In fact, 40 years after Ted built Frank Sinatra's house, Doug played in the Frank Sinatra Charity Golf Tournament. When Doug won the tournament, he went up on stage to receive an award and Frank Sinatra shook his hand saying, "I have loved following your career. Make sure to give your dad my best…" Sinatra had met thousands of people over the last four decades and it was truly a wonderful moment and a great honor to know that Ted made an impression on such a famous man.

While there are so many once-in-a-lifetime memories with his family and friends over the years, his last days were spent at a few parties with his wife and friends. On Monday, when he had a party to attend with ex-pilots, he told his wife, "Bye, Phyl, see you later…" In the holiday spirit, he was wearing his red shirt and green jacket for Christmas. Spending time with fun, daring friends at every turn, Ted spent his last conscious moments laughing at a party with his ex-pilot friends, the Quiet Birdmen. Ted DeCinces will be remembered for living his life his way. After being diagnosed with Parkinson's disease, he still went skiing. The family remembers the neurologist was in complete disbelief at this news asking, "You did what?" Phyllis made sure he never let the disease stop them from doing whatever they wanted to do. His purpose in life was to be successful and inspire others to never quit trying. He shared his inherent desire to always be better and instilled it in the next generations. As a former member of the Granada Hills Presbyterian Church, he helped them build the church by serving voluntarily on the building committee. As Ted believed in God and Heaven, his family feels he is at peace and one day they will be reunited again. While the family is mourning his loss, they are not mourning his life because he lived a great life. By his side in rest will be a baseball signed by his son, as he will be wearing his Flying Jacket and his USS Ronald Reagan baseball cap.

A tough, caring and giving man, he wanted everyone to be happy in life. His advice would be not to be upset about the small things in life, but to take care of Phyllis and each other. Ted enjoyed his children, grandchildren and great-grandchildren. Phyllis will miss his presence in every part of her life. Doug will miss the way he was bigger-than-life, the patriarch for the family. Justin will miss his generous spirit and leadership. Kristi will miss his jokes and caring nature. She will remember him as a very proud grandfather. The family carries wonderful memories of a smiling Ted watching his great-grandchildren swim in the pool and enjoy life. His most recent joy was watching his youngest great-grandson, Brody, throw a ball…

Ted was preceded in death by his parents Dorothy and Dominick; brother Joe; sister Mary; and grandson Chad. He is remembered by his wife Phyllis; son Douglas and his wife Kristi; daughter Cheryl and Ray; brothers Bill and Jim; grandchildren Justin, Tim, Amy, and Katharine; great-grandchildren Delaney, Riley, Paige, and Brody; and many wonderful friends. May Ted DeCinces rest in peace…


High Flight
by Pilot Officer Gillespie Magee

Oh! I have slipped the surly bonds of Earth
And danced the skies on laughter-silvered wings,
Sunward I've climbed, and joined the tumbling mirth
Of sun-split clouds - and done a hundred things
You have not dreamed of - wheeled and soared and swung
High in the sunlit silence. Hov'ring there,
I've chased the shouting wind along, and flung
My eager craft through footless halls of air.
Up, up the long, delirious burning blue
I've topped the wind-swept heights with easy grace
Where never lark, or even eagle flew.
And, while silent, lifting mind I've trod
The high untrespassed sanctity of space,
Put out my hand, and touched the face of God.



Click here to link to Phyllis DeCinces' online memorial.